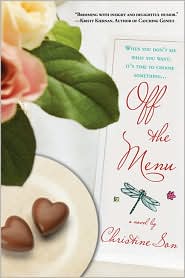 Title: Off the Menu
Author: Christine Son
Pages: 368
Yearly Count b: 82
Initially I was really excited to read Off the Menu, then while reading the first chapter I wondered what I had gotten myself into, but from then on I was forever captivated. Off the Menu is a deep and satisfying read that was really hard to put down! I thought that I would have to try to work myself into a positive mood to enjoy the book, but it was so much better than that! I love Christine Son's writing, it is endearing, gentle and beautiful. She picks up and leaves off in each chapter with another one of the three valedictorian friends Hercules, Audrey and Whitney that have known each other since high school, and I found myself along for the whole thing. Once I hopped on, Christine did not ever disappoint.
I figured that Off the Menu would be a feminine book about being in love or finding love or something of the sort. I am a stickler for covers, sorry. I it really seems to put Off the Menu under a stereotype that I don't think it belongs in. It is so much more than a romance/ women's novel! It is filled with relationships, endurance, and high expectations placed by the oneself, or the parents, it is so much more than the cover would suggest.So beware that if you have avoided this book because of the cover...you are really missing out.
I will steer clear of generalizations, but the most of the Asian students and youth that I have known growing up do really have to battle between what the expectations their parents place on them, and their own fulfilled or unfulfilled dreams. Even in junior high in Korea kids get up ever earlier than school starts to go to tutoring, and then from that to school, from school they go to a different tutor. I had a roommate in high school that told me that she would get home at 11 pm from studying and then have to be there at 5 am again! I don't know about you, but my junior high days were no where near that complicated. Yes, I know that Americans do have expectations for their children as well, and that is obvious to me too, but not in the same way, to the level of intensity that I have seen it in the Asian and Asian American families that I know. The stakes somehow seem higher, like impossibility is expected, and respect for their parents wishes is the norm (where here it is certainly not). I enjoyed the character portrayals of the different types of women, and how they coped with these pressures in life, the busyness, the side jobs or side dreams, the reality that they were getting old and needed to marry. Each character was equally enticing to me, however I did enjoy Hercules the most but that was because somehow I related to her more than to anyone else.
I am in awe of Christine Son because Off the Menu was so much more than I had ever expected. I really enjoyed all of it (except somehow the first chapter??) and I would recommend it, highly. So it gets my funky award:
The Happy Chicken
:) enjoy!






and remember to:

Off the Menu TLC reviews and interviews:
Estella's Revenge e-zine (author interview)
Literarily (author guest post and giveaway!)
Beastmomma (author interview)
Book Nut
Ramya's Bookshelf
Ramya's Bookshelf (author interview)
Pop Culture Junkie
8Asians
Savvy Verse and Wit
In The Pages
She is Too Fond of Books
Planet Books
B&b ex Libris
The remaining TLC stops:

Wednesday, November 19th: DISGRASIAN
Thursday, November 20th: Booking Mama
Monday, November 24th: The Literate Housewife Review
Tuesday, November 25th: Feminist Review
Wednesday, November 26th: Diary of an Eccentric