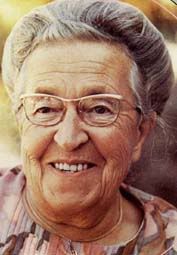 Title: The Hiding Place
Author: Corrie Ten Boom (with John and Elizabeth Sherrill)
Pages: 246
Yearly Count b: 62
This is not a book of someone who was persecuted, although that would be enough of a story for sure, The Hiding Place is a book about a family, and even more than that a community chose to put themselves in danger in order to save those who were hunted during WW2. There are books that are a pleasure to read because they are all about happy and good times, this is not that book, not at all. The Hiding Place by Corrie Ten Boom is a book which shows that truly no matter where you are, no matter what the circumstances that surround you you can persevere. Oh, no certainly not on your own, but by the power of Jesus Christ!
Her life was pretty much a normal spinster life up until the age of 50. Corrie was living with her
elderly father ( a watchmaker) and her sister in house/watchmaker shop in Holland. Then the occupation of the German Nazis took hold of Holland, fear permeated people, made them live differently, out of fear they followed. But this book is not about those who followed the fear, but about those who rose above it, not fearing for their own lives. Carrie, her father and sister filled the house with Jews, Corrie because the ring leader for the anti- Nazi underground. She put herself, her family in what would seem to be unnecessary danger of death, torture and imprisonment because she, although not Jewish believed that all people are just as valuable. Corrie held church services for the mentally handicapped, she found beds for the elderly, and welcomed danger by filling her home with Jewish friends, and those who would become their family.
The most impacting thing is that Corrie shows weakness, she doubts, she fears, she gripes, she is selfish and then she realizes it is wrong. It is through Corrie's weakness that you can see the greater plan for her, the big picture of how weakness, is turned to strength and all for the glory of God. To find joy in living with fleas?? To find peace in a concentration camp? To see the goodness of a Nazi soldier? Oh, that is not even the half of it!! You have to read the book to find out just how incredible it all is.
If I could show you my copy of the book, the dog eared pages would show you that this is a must read. My mother-in-law selected it for this month for our in town book club (which meets tomorrow). She reads it allowed every year to her junior high students. I know why she does.
I loved this for so many good reasons. The Hiding Place is a book on forgiveness, on forgiving because since we need forgiveness, we need to give it, no matter who needs it. In Corrie's case it was the Nazis, and even more heartbreaking, their own people who turned them in. Forgiveness is not something that anyone deserves, yet it is what we have to give.
I am truly moved beyond words by the strength in this book, I still can't get over how hard it would have been, in a time where one's own survival was a primal instinct, to overcome that and know that you will suffer, but that the worst that they can do is to send you to heaven. Corrie's story is one that I will never forget, I have not doubt.
There is a richness of quotes in this book, here are some:
Happiness isn't something that depends on our surroundings,Corrie. It's something we make inside ourselves (p. 33)

Lord Jesus, I offer myself for Your people. In anyway. Any place. Any time (p. 74).

Together we said aloud:
"War".
It was five hours after the Prime Minister's speech. How long we clung together, listening, I do not know. The bombing seemed mostly to be coming from the direction of the airport. At last we tiptoed uncertainly to our Tante Jans's front room. The glowing sky lit the room with a strange brilliance. The chairs, the mahogany bookcase, the old upright piano, all pulsed with an eerie light.
Betsie and I knelt down by the piano bench. For what seemed to be hours we prayed for our country, for the dead and injured tonight, for the Queen. And then, incredibly, Betsie began to pray for the Germans, up there in the planes, caught in the fist of the giant evil loose in Germany. I looked at my sister kneeling beside me in the light of burning Holland. "Oh Lord, " I whispered, "listen to Betsie, not me, because I cannot pray for those men at all"(p. 62)

The Ten Boom children : Betsie, Willem, Nollie and Corrie.

The Beje (pronounced bay-yay).
Schematic drawing of the tilting, centuries-old house
still to be found in the center of Haarlem, Holland.
This is Corrie Ten Boom's bedroom in which the "hiding place" or secret room is built. You can see there is a little entrance to get into it in the bottom of the closet, and the wall is broken now for museum purposes, but it was built especially to harbor Jews during the occupation of Holland.
Reviewed this? give me your link, I'll put it here :)


Other Blogger reviews of The Hiding Place:
Maw Books
Deliciously Clean Reads
happy reading,