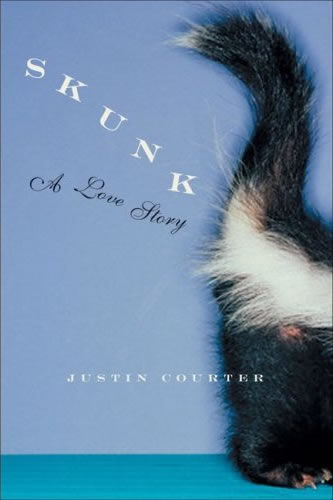 Title: Skunk: A Love Story
Author: Justin Courter
Pages: 347
Yearly Count: 43
(july blowout book 6)
Obsessions are either understood by those around us or they are not. Addictions are the same, but to love anything too much is more danger than it is worth. Not for Damien, the main man in this book, Skunk: A Love Story. Damien is unhealthily obsessed with the smell of skunks, their "musk" and anything skunk related, this novel is about how his life goes and flows because of it. A tale of life with an addiction that is not understood by anyone, and ridiculed by everyone. Witty, fun, silly and mostly just insane this is a book unlike anything I have enjoyed.
My relationship with Skunk was a stop and go type of time. I loved it, then it seemed to move too slowly, then I loved it, then I didn't then.., well you get the idea, yeah? Much of the time it felt like there was a little something missing, and I cannot put a finger on it. The voice of the narrator reminded me (for all you TV folk) of that of Dwight Schrute off of the splendid show The Office. He is similar in the way he speaks, in his weirdness and just too much to mention. I enjoyed the voice, but sometimes I felt like I needed to be told the same story from the perspective of a more balanced individual.
No matter what, this was one of the most entertaining books I have read so far this year. It held tons of laughs, tons of weirdness and the feeling of too many salami sandwiches much too late at night.
Thank you
Diane,
for sending me this book!!! What a hoot it was!
Other reader views:
Diane: carp(e) libris reviews
have you read this? give me your link and take mine.