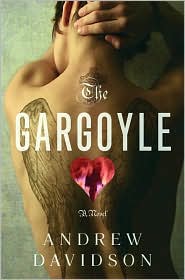 Okay, I need some help from you all...I am reading The Gargoyle, and I am horrified, it is not only vulgar and dark, it is plain yuck. It feels like the language and pace is too intense (choppy and too in-your-face). It seems there is a need for a constant stream of high risk people, (porn stars, people who pawn their daughters bodies to the highest bidder, so that they can buy Chrystal meth) in order to keep the attention span of a modern day reader.
I have just seen some of your reviews on this book and you ALL love it!! What am I missing. I haven't quit a book this year (and I have read 54 books so far) but this is probably going to be the one that I will choose to not finish. However I am willing to give it another try if you all tell me that something gets better, if things change from being so choppy, and filled with gore. I guess I feel it is overwhelmed with sarcasm as well. I just watched the trailer and then I wonder if there are other stories in this book that I would like and just the first is like this.
Can anyone help me please???
Here is the trailer for it anyway: