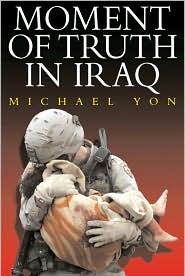 Title: Moment of Truth in Iraq
Author: Michael Yon
Pages: 256
Genre: Memoir, War
Yearly Count: 5
Michael Yon is a journalist, who since 2004 has chosen to report on the situation in Iraq first hand, yep over in Iraq. He isn't allowed to carry a gun, but goes out on missions, watches, encourages, and reports about what is going on, what he is seeing and does so with such excellence that after finishing the novel I was left speechless. I have started and deleted my review for this book almost ten times.
This is the only book I have purchased for myself in over a year. Does that say enough? I don't think it does. I have dreads, I am a vegetarian, I go hiking for fun and I live in Oregon and I loved this book, maybe that is what I am trying to make sure is understood. My brother is in the Army, he has been an enlisted man for almost 10 years. He has a family, a wife and two kids, he was in Iraq for over 16 months recently. He was
injured
in Iraq, he received a purple heart, he doesn't like to be called a hero, he says he isn't one, he is a guy doing his job.
I have cried when I think about what he has given up, the time that has lost with his family the worry his wife has endured, but he has told me before that he doesn't think of it that way. He saw the
Iraqis
, he saw the people there he saw changes, he saw what most journalists aren't there to report on, the victories.
Michael Yon is there, he is side by side with these
heroes
who are too humble to think of themselves that way. For them that word, hero
conjures
up images,
images
of a men they admire but not themselves. Yon was out there when my little brother was
fighting
with Operation Arrowhead Ripper.Unknowingly I picked up a copy of this book and asked my brother if he had heard of this guy, he said he didn't know but then I
jokingly
said, "look at the picture, you might
recognize
him!" he looked at the jacket flap and did!
I have come to admire Michael Yon in many ways, but the most important to me right now are that he is an insane brave man, and his objectiveness, sure he is over there with these guys, but I saw that he didn't speak all about the good things, he covered the losses and the wrong choices being made. Yes, even if they were being made by the leadership of the army, even if it didn't make the army look good, his honest voice was what I admired the most. Tell me what it was like, what you saw, that is what I want to know!!!
This review could go on for a day and a half, and I have quotes underlined that could go on for longer, but I'll stop. It was good, I loved it. More than anything I have heard, read or seen has given me a much fuller perception of the current situation in Iraq. I would recommend Moment of Truth in Iraq to everyone, but in a big way to those who just want to know what is going on over there. I have never felt a portrayal to be more ballanced than this one by Michael Yon. I recommend this book with no reservations, and in case you were wondering....yes of course it got my happy chicken award!
Michael Yon's Online Magazine (blog)