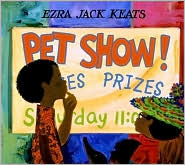 Title: Pet Show
Author: Ezra Jack Keats
Genre: Children's Classics
Loved it. Ezra Jack Keats has all of our votes. His images are kidlike- in that they make sense to the kids, and they are high quality and cleaver as well. The writing of this book is cool, calm and perfect. It is easy to sit back and enjoy Keats and his beautiful characters Archie and Peter in this classic.
Pet Show is about a place where there will be a judging of all the neighborhood pets, however Archie's pet Cat (the star from HI, Cat!) is missing. His mom tries to help him understand that Cat is not that reliable and cannot be asked to know when to appear for the show. Archie ends up staying home while Peter and the rest of his friends gather up their pets and head off to win some prizes. You'll have to read the rest on your own, as I wouldn't want to spoil the clever ending for anyone! It is pretty cute, the boys and I sat and enjoyed the story just as much as the artwork in this book.
I tremble at admitting this, but this is my first Ezra Jack Keats book! Yes, I know this isn't even the one that I see everywhere, The Snowy Day is THAT book. What do you think? Have you read Keats? Which is your favourite book?
Make sure you
enter my giveaway!!
I have tons of copies of
Sundays at Tiffany's to give
!